they would include
-purses (including coach)
-dvds
-digital cameras
just a sample, not everything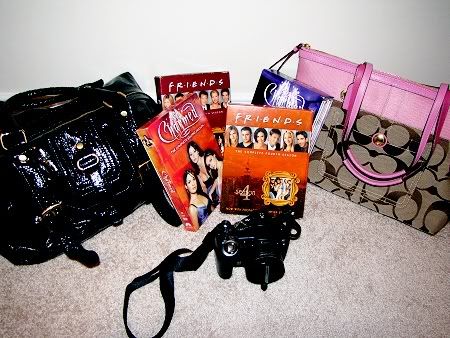 if you might be interested let me know. i'd hate to take all the pictures if there is no interest. they're just collecting dust in my room, so i thought they might go to good use.
i definitely need to clean out my room, and get rid of items i don't or rarely use. i'd like to see if any of you would like to buy these items off of me.
Current Location:

home // bedroom

Current Mood:

pleased

Current Music:

bethany joy lenz // day after today
I decorated my cell tonight and I love how it came out! It looks so pretty.
Current Mood:

irritated

Current Music:

Journey - Don't Stop Believin'
Franklin on Friday and see everyone. Jebbie talked to Andy last night and he told her something that she won't tell me. Nothing bad of course, its more just like a surprise. I wanna know what it is now, but I'll find out soon.

We were going to go up to my relative's house this weekend, but gas prices are just wayy too high. Plus we have to do the long drive down here from MA in a week & a half. It's about $3.50 per gallon here right now.

My family & I are going to donate $100 for the Hurricane Katrina victims. I might throw in some more of my own money. Its just so horrible to see and hear about all of this. It just makes me wanna cry. I can't even imagine losing everything that I own.

Kelly is a part of the MTV,VH1 & CMT Hurrican Katrina relief special. I wonder what she's going to be singing. Her Las Vegas concert is that night. Another thing that I need to watch along with the Red Sox/Yankees game. I'll probably have to tape it since I'm probably going out.

<3 Mandie
I'm in a very happy mood right now. I can't wait to come back to
Current Mood:

giggly

Current Music:

TV - News
Texas Monthly
were just posted on
UltimateKC
, and I suddenly felt like making icons. I made a few, so I figured that I would share them.
Let me know if you take any. Almost all have white borders :)
(
Everything's Bigger in Texas
Collapse
)
I wish the picture of her in the car made it into the magazine. It's such a great shot.
♥ Mandie
Outtakes from
Current Mood:

tired


Everyone else has gotten emails saying that their tickets were shipped out except me. I guess that I'm just unlucky, but hopefully mine come at the same time. They should be arriving on Thursday.

Can't wait for the new season of Laguna Beach to start on Monday. I need to buy the season 1 DVD.

Glad that I'm not working today, although I would rather work than go to my dentist appointment.

♥ Mandie
My digital camera is arriving today. I'm quite excited about that. Although, I do have a dentist appointment today and I'm definately not looking forward to it. It sucks.
Current Mood:

peaceful

Current Music:

Kelly Clarkson - Influence Medley - CT - BT
Amy. I love you girl, thanks again for doing this!

Can't wait to find out what she adds, I know she has already added Beautiful Disaster. Ordered my camera and should be recieving it next week. I can't wait!

Downloaded 2 more ringtones for my cell phone, Because of You by Kelly Clarkson and Independence Day by Carrie Underwood. :)

Fighting whether or not to tell someone something, but after some talking with Jebbie I've decided to. We'll see how this goes. I'm not expecting anything. I just need to get my feelings across.

♥ Mandie
Kick off of the Hazel Eyes Tour is tonight in TX! Getting a call from
Current Mood:

lazy

Current Music:

TV - Sox/Rangers
#3
on the high 5 at noon today.
I have work tonight at 5:30, but I'm going with my dad to check out the URI campus before. I hope the AC is fixed at work, but I'm guessing that it's probably not.
OMG, Me and the Boston Posse have the best idea for shirts for our concert. We're going to go to Hampton Beach to a place where they do airbrush on the shirts and make it looks really cool. We're either gonna use a white tank or a white t-shirt and have Boston Posse <3's Kelly on the front and the <3 is going to be our M&G picture in the shape of a <3 of course. Then on the back its going to say our name and
#1
fan below it. I can't wait. We're going to all come back and chill at someone's place afterwards probably too. It's going to be a wicked kick ass night! Can't wait guys! :)
<3 Mandie
I love KISS108. While I didn't win the contest to have Kelly Clarkson drive the BMW to my house, they have started to play Because of you. I'm so excited! I definately didn't think that they would start playing it to soon, but it is cool that they are. I'm sure they're just testing it right now, but hey I love being able to hear it. It was
Current Mood:

chipper

Current Music:

Kelly Clarkson - Because of You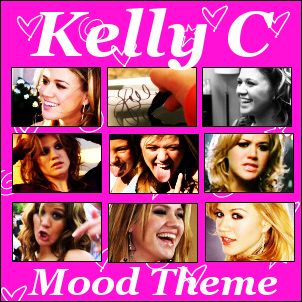 Download Here
File includes images & code
(
Directions
Collapse
)
<3 Mandie
I decided to create a new mood theme of Kelly Clarkson with more recent pictures. I figured that I would share it with everyone.